Bow Water & Land
Bow Water & Land offers a unique investor opportunity for asset diversification through the investment in two distinct assets: water and land. The project is comprised of 298.5 acres of land and a large water allocation, over 7 times the amount of water required to service future development.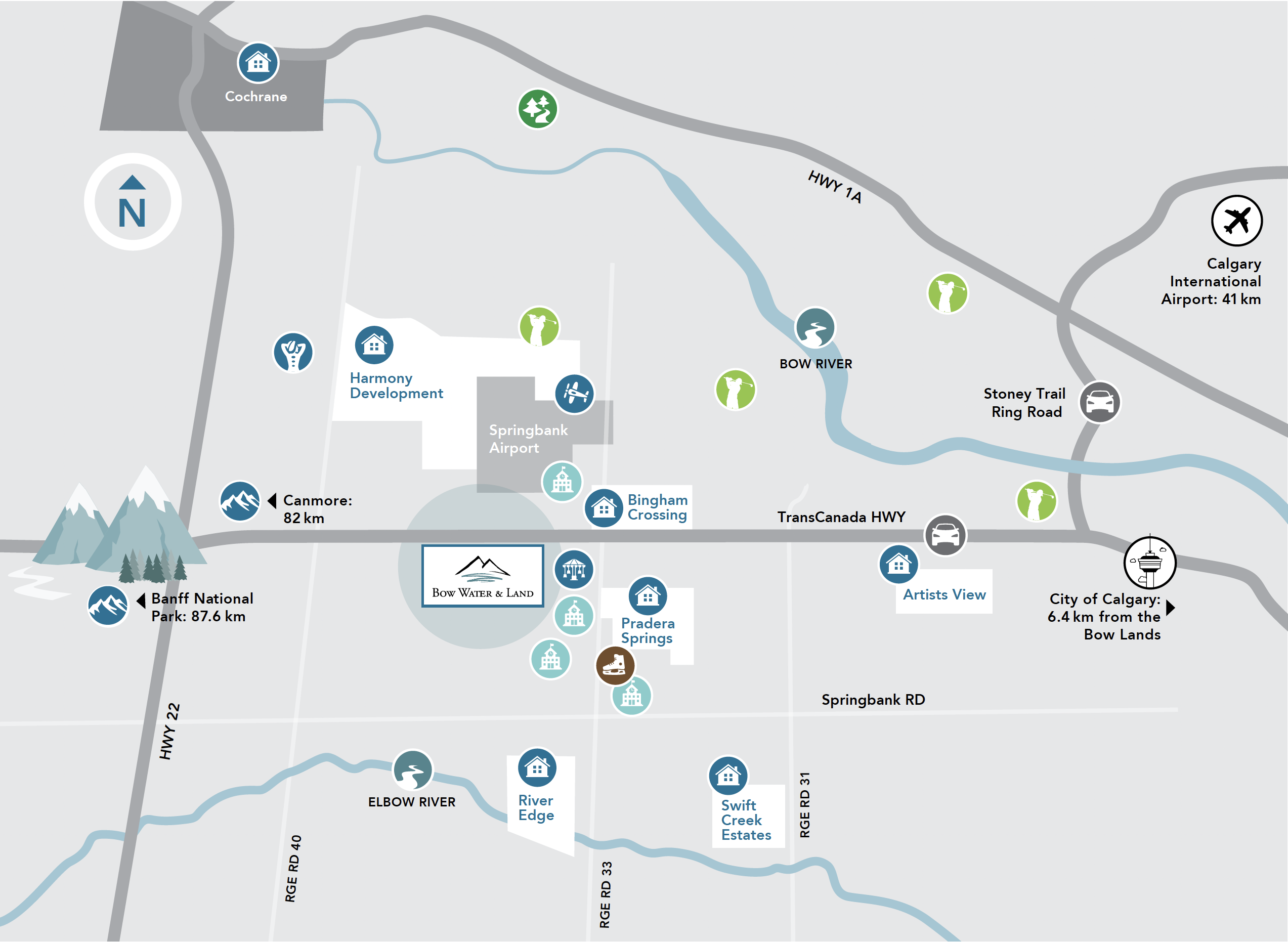 The Lands provide strategic long-term development potential as the City of Calgary and the surrounding communities continue to grow. Located 6.4 km west of the City of Calgary, bordering 1.6 km of the TransCanada Highway and adjacent to Calaway Park, the Lands are in a high traffic development corridor. Management seeks to create long-term investor value and mitigate risks by addressing the four key land development areas of (1) road access, (2) water access & treatment, (3) wastewater treatment and disposal, and (4) land use designation & subdivision.
Please contact your Authorized Dealing Representative for further information about investing in Bow Water & Land Trust.
This is not an offer or solicitation to buy or sell securities of any kind. For more information including risks, redemption restrictions, and long-term business objectives, refer to the Offering Memorandum dated September 28, 2021
INVESTMENT CATEGORY – Growth
TARGET RETURNS – 10% Targeted Preferred Return Per Annum (Simple, Accrued – Paid at Exit) plus 55% profit sharing to Investors. Returns are targets only and cannot be guaranteed.
SECURITIES OFFERED – Investor Units
ELIGIBILITY OF INVESTMENT – Trust Units are available for purchase through tax-deferred savings plans (such as an RRSP, RRIF or TFSA)
JAY SIMMONS, CPA, CA. ICD.D | Trustee, Director
DONALD LEITCH, QC, LLB | Trustee
JOSEPH LOUGHEED, LLB | Trustee
GARY BENTHAM, CPA, CA, ICD.D | Independent Director of the General Partner
DAVID LAYCOCK. MACC, MBA | Independent Director of the General Partner
STEVE ALLAN, FCPA, FCA, ICD.D | Independent Director of General Partner
SEAN MORGAN, CPA, CA, CFA Charterholder | Independent Director of the General Partner